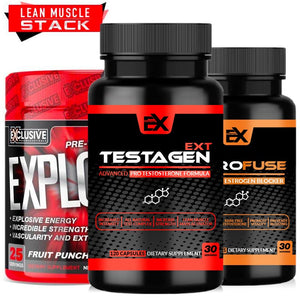 LEAN MUSCLE STACK
Is our most effective stack, which helps you get the results you've been looking for. This all-in-one stack will help aid in weight loss, boost energy and achieve maximum results at a rapid speed. 
BENEFITS
✓Helps With Weight Loss
✓Burn Fat
✓Increase Energy & Boost Performance
✓Increase Strength & Power
✓Muscle Growth & Recovery✓Improve Overall Performance
EXPLOSION Pre-Workout used to increase strength and help you focus during your workouts, keeping you pumped without the crash.
TESTAGEN-EXT Testosterone Booster is an all-natural, potent blend of 13 targeted compounds that help maximize your natural free testosterone, increase strength, endurance, intensity and sexual performance.
ESTROFUSE Estrogen Blocker is an all natural estrogen blocker and is best used with A stack consisting of Testagen-EXT, EstroFuse, and Explosion to give you the best results for Lean Muscle. 
Caution: Do not exceed recommended dose. Pregnant or nursing mother, children under the age of 18, and individuals with a known medical condition should consult a physician before using this or any dietary supplement